3 operations and one year with sores, another operation waiting. I was desperate.


After 3 days' QRS treatment the fluid was entirely gone.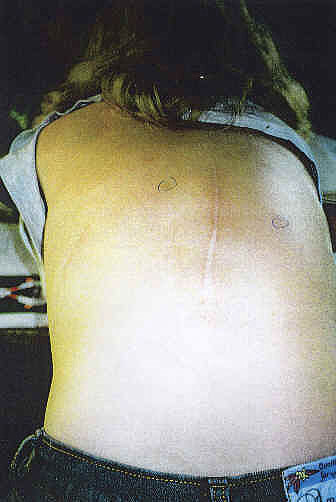 : after 3 months' treatment
I have been using QRS since February 7, 1996. On March 19, 1995 I had a ski accident and broke my 17th vertebra. On March 20, 1995 I had to be operated and got screws in my back. On March 22, 1995 another operation, when a piece of my hip joint was removed and inserted into the left side of my back. In January –96 the screws were removed. Unfortunately gangrene fluid formed in the wound and I had to be operated once more. Again gangrene fluid formed and the next operation was in store.I started to use QRS and after 3 days' treatment the fluid was entirely gone. After one week my back pain was gone. Thanks to QRS I have no longer any digestion problems. My smoker's cough has disappeared. I sleep well. I feel really vigorous every new day.