2005-03-20 21:10:00
QRS in Sport

The QRS has been shown to be effective in increasing performance for both professional athletes and individuals that make exercise a part of their daily activities. QRS is an innovative treatment available without negative side effects. The strenuous training involved in competition and exercise may often result in torn muscles and muscle tension. Using the pulsating electromagnetic fields of the QRS, torn and tense muscles become relaxed and a quicker recovery is achieved due to the increased blood flow and oxygen to the cells; the body is then capable of improving performance. The QRS eliminates toxic waste, while factors such as asthma, pain, injury that could interfere with training are positively influenced with regular use of the QRS system. Testimonials claim that this regeneration leads to a safer, quicker recovery, with improved stamina after training and competition, as well as enhanced athletic ability.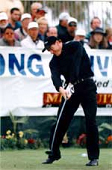 John Slawinski
United States Golfer, Age 48
Professional Senior Long Drive Competitor
World Finalist
"I found out about the QRS from my doctor in July 2001, who recommended it for the various conditions resulting from improper workout techniques over 25 years. These conditions were limiting my performance as a professional long drive competitor. I was dealing with carpal tunnel syndrome pain that woke me in the night, low back pain, numerous neck and upper back aches, a strained rotator cuff from a baseball injury I had as a child, and high blood pressure. Using the QRS 3x's a day, from 8 to 16 minutes each time, I saw an array of positive health results.
Since I have wrapped the QRS pillow around my shoulder, it has eased the pain so I could increase my workout capacity. In my workouts I have found that I could do more intense work outs more often and recover much faster than previously. This improvement was about 40%. My blood pressure was high and started at 139 and went down significantly over the next 3 months. My blood pressure still remains low with daily use of the QRS. After late night workouts, I have trouble getting to sleep. I use setting 1 on the QRS right before going to bed. I find with the QRS I go to sleep sooner and find it knocks me out. It feels like taking a tranquilizer and puts me into a real deep recovery sleep!
A surprising result for me was better and faster digestion. I take a lot of vitamins and nutrients. Somehow I can eat more, which I like, because it is hard for me to gain weight. I find I am always hungry sooner than normal. I also find I have better elimination. One interesting thing I have noticed is that if I lie on the mattress with my head it makes me feel light headed so I make sure my head is off the mat for my treatments.
The ultimate result for me was an increase in my golf club head speed from 125 to 135 miles per hour, which in turn will increase the distance necessary to compete at a higher level in worldwide competition! I have also seen muscle relaxation and pain relief from my wrist to my shoulder and in my neck and lower back. The QRS has become a daily habit for me and I take it with me wherever I am competing. Now, I depend on the QRS to make me feel better and help increase my sports performance."



E. A., MD, Sports Medicine, Premier League Soccer Club AS Rome, Italy
"For 2 months we have had a QRS at our disposal for test purposes. At first experience we can say that the QRS produces very good therapeutic results, especially by recovering from hard training. Also by tiredness the results are excellent. We have not been able to build an opinion regarding the results of trauma, thanks to God, as we haven't had any injuries during this period of time. We promise that as soon as possible to produce a picture of the effects QRS has on healing injuries. For now we recommend QRS to every exercising sport"




H.B., MD, Family Practitioner, Germany
"Patient 37 years old. Tennis player, problems with Achilles tendon. Different treatments had failed. After 3 weeks with QRS could play tennis again." "Patient had1994 skiing accident left knee ligaments damaged, meniscus removed in surgery April 1995. The patient was restored as good as possible. Skiing and tennis done where possible even though mornings were tough. Pain and stiffness in both knee joints. Mid-June 1995 QRS treatment started. After one week, at least 50% improvement."

C.S., Irvine, CA
"I have been a participant in national level senior tennis tournaments for the last 12 years. As an intense competitor, and while entering menopause, my body was starting to respond with a lot of aches and pains. A stiffer lower back, sore arm/shoulder, sore muscles were all becoming daily delights. After using the QRS for the scheduled time period, I have felt more alert with less pain. It is amazing how such an easy thing can do so much overall. Using the pillow helps a lot to focus on problem areas especially low back. Just standing up in the morning was an adventure, now-no problem at all."



Published by den 2005-03-20 21:10:00 ()